THE BAHAMAS ADVENTURE
Page 1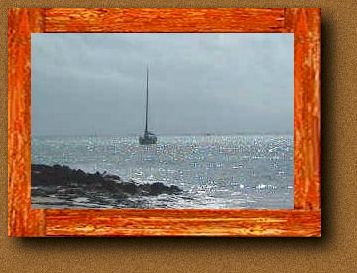 | | |
| --- | --- |
| NOTE: | Place your cursor over any picture for a description. Clicking on any picture will display a full size version. Use the browser BACK button to return to the text. |
Introduction
My brother-in-law Ron wanted to sail his 32 foot Hunter Vision sailboat named 'Seaclusion' from New Jersey to the Bahamas in preparation for his retirement next year. He left New Jersey in September 2000 and intermittently during the next months, sailed down the Inter-coastal Waterway to Florida. Leavening the boat at various marinas and using all his free time to advance the boat South, he finally made it to Florida in December 2000. Now he needed some additional navigational help to head out into the open waters of the Atlantic and it's also just not a good idea to try to cross the Gulf Stream by yourself, he gave me a call. I jumped at the offer for this unique adventure and to put my navigation training to the test.
My wife Karen and myself have been boaters for the last 5 years. We enjoy our express cruiser Sojourner which we keep in Toms River, NJ. However, we usually just cruise Barnegat Bay and I have never had a challenge like this. I have take several courses in open water navigation, but have never had the opportunity to truly put my skills to the test. The though of two guys sailing a 32 foot sail boat on an adventure into the Atlantic and then exploring the outer Bahamas Islands was just too strong a draw. My friends and my wife though we were both crazy. But just how many times does a guy like me, living a day to day life in a totally controlled environment get a chance to toss the dice in the unknown.
I flew to Florida in December 2000 and the following is from my log.
Intro 1 2 3 4 5 6 7 8 9 10 11 12 13 14
© 2001, Donald R. Swartz